Temporary or Permanent
Indoor or Outdoor
Easy Installation & Removal
Extremely Low Maintenance
No expensive ice-grooming equipment needed
Custom configuration to meet your needs
Worldwide Distribution
Quick turn-around from engineering to installation
Perimeter Systems
Dasherboards
Rubber Flooring
Tables, Benches, and Bleachers
Portable Skate Storage
Figure Skating
Ice Hockey
Public Skating
Exhibitions
YEAR-ROUND…regardless of climate!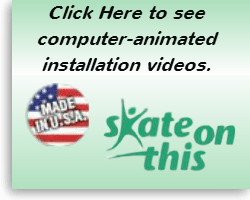 Skate On This is a year-round, all temperature ice skating experience!
Ice hockey, figure skating, special events or family fun, are no longer strictly seasonal activities. From the leading edge of plastics technology comes the "skate on this™" synthetic ice-skating surface.
Suitable for temporary events and exhibitions to permanent installations at athletic facilities, parks, or entertainment sites, "skate on this" synthetic skating surface is lower cost than real-ice systems from engineering to maintenance. A rink can be nearly any size, from a 16' x 24' practice area to a 60' x 120' public rink, to a full-sized 85' x 200' hockey training rink.
The value of "skate on this" is multifaceted, from flexibility in design and configuration, to ease of maintenance and modification. With a host of accessories and rink-side furnishings available from PMI, your facility can reap the benefits of synthetic ice like so many others around the world.
To find out why synthetic ice skating rinks are being installed from China to Mexico City and all across the United States, Canada and the UK, contact PMI today.
PMI is a member of the US Green Building Council (USGBC)